Facebook friend tracking for iOS.
Crowdlink is a personal navigation app which allows users to easily pinpoint Facebook friends, within approximately 300 feet from your iOS device, without the use of GPS. Imagine searching and locating friends and family at crowded concert, sporting event, airport, or school.
It works like this:
– You're in an area crowded with people, such as a concert or airport, and would like to meet up with Facebook friends.
– You launch Crowdlink, and touch the "Let Friends Fine Me" switch, to broadcast your position to nearby friends.
– A Facebook friend at the same concert launches Crowdlink and begins searching for friends nearby.
– Your friend's device receives your broadcast, and your name and picture is displayed in your friend's "Nearby Friends" list.
– Your friend selects you from the list, and follows the distance reading to your position.
– You both proceed to rock out!
Requirements:
– An iOS device with Bluetooth 4.0
– IOS 7 and higher
– Facebook account
– Facebook Friends(who are also running the Crowdlink app)
Please Note:
Devices in "Let Friends Find Me" mode must be awake with the Crowdlink app running in the foreground. Devices in search mode must have the "Let Friends Find Me" switch set to the OFF position.
Instructions:
Launch Crowdlink and Tap the Login with Facebook button
Broadcast Mode

 Tap the Settings tab at the bottom of the screen
Set the "Let Friends Find Me" switch to the ON position(Fig. A)
Note: Searching will be disabled in Broadcast mode

Search Mode

Tap the Settings tab at the bottom of the screen
Set the "Let Friends Find Me" switch to the OFF position(Fig. B)
Tap the Friends tab to see your friends nearby
Select a friend in the list(Fig. C)
Friend details screen appears, with your friend is highlighted in the center.(Fig. D)
Your relative position to your friend is a flashing blue, orange, or red dot (blue is far away, red is very close)
Note: Broadcasting for friends is disabled in Search mode

See the Crowdlink Help Page for Troubleshooting Tips
Fig. A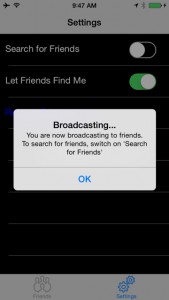 Fig. B
Fig. C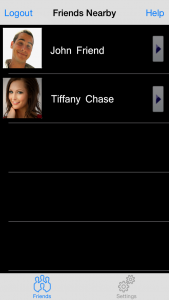 Fig. D