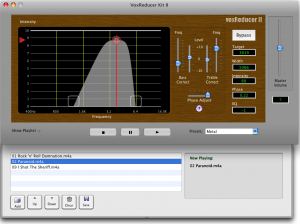 The VoxReducer Kit II application is designed to reduce the level of the main vocal track in a stereo music audio file using the voxReducer II graphical vocal reduction plug-in. VoxReducer Kit II includes four factory presets designed for different musical genres. These include Jazz, Light Rock, Hard Rock, and Metal. voxReducer II has been updated with a graphical user interface for easily targeting and reducing the vocal frequencies.
Requirements:
Apple Intel Core 2 duo running Mac OS 10.x
One GB RAM (Minimum)
Source audio files MUST be stereo files.
Note: voxReducer II will reduce a good amount of the lead vocal track, however, due to stereo effects processing on the vocal track during recording, the vocal track cannot be removed completely.
Download:
Key code is: vr301cv93510